My longtime favourite Textpattern CMS has been replaced recently by WordPress for various reasons. With Bomberblitz I had about 1100 posts to transfer over. Given the relative unpopularity of Textpattern all the import tools are outdated and non functional. Here's a workaround that worked for me!
First of all, make a Textpattern page which will create a basic XML page. I used the this code.
This will display up to 2000 articles from Textpattern on a single page.
What we're salvaging here are:
An ID number for identification in WordPress
The title of the post
The date of the post
The body of the post, encoded with <![CDATA[ ]]> tags. Without this special tag the importing tool we'll use will ignore the HTML tags unencoded and import nothing
The Category1 and Category2 values, to assign categories in WordPress.
Once you've loaded the page and saved a copy of it, change the filename extension to .xml
Now in WordPress install the (most excellent) WP All Import plugin. This converts any XML file into WordPress posts with great customisation features. You shouldn't need the Pro version for this task.
Using WP All Import
It looks confusing at first but stick with it. Start a new import and upload your XML file. The second screen "Step 2: Select Elements" will show you a single post as it has been read from the XML.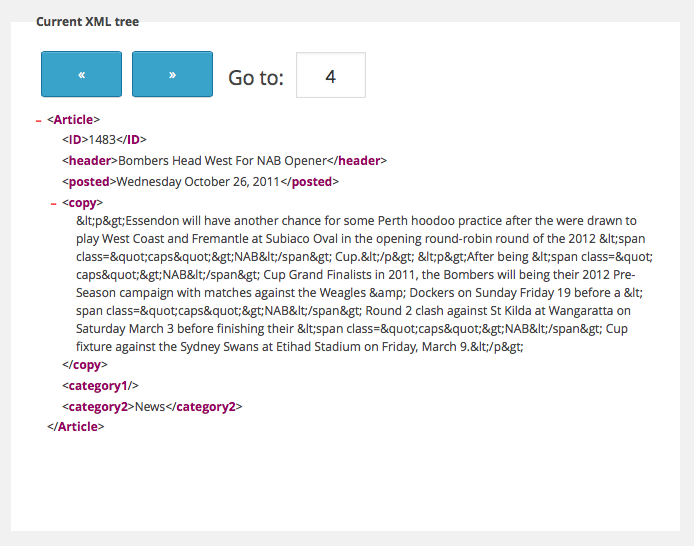 Next, drag the <header> tag from the XML into the title space, and drag the <copy> tag over to the post content space.
On the next screen drag the <posted> tag into the post dates section.
Then drag the <category1> and <category2> tags into categories.
There's a whole bunch more options but you shouldn't need any of them. Scroll down and press Save and watch your posts import!
This successfully imported 1172 posts for me in one hit, all with correct categories and post dates.
Hope it works for you